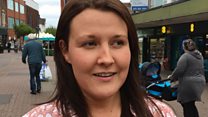 Video
The people too 'disillusioned' to vote in election
People living in Stoke-on-Trent who don't vote in elections have been explaining why.
The city returned three Labour MPs in 2015, yet more people failed to cast a valid vote than the numbers who voted for the winners.
The BBC England Data Unit analysed the 2015 General Election, which suggested that non-voters would play a pivotal role in the results if they were to use their vote.
This video has been optimised for mobile viewing on the BBC News app. The BBC News app is available from the Apple App Store for iPhone and Google Play Store for Android.