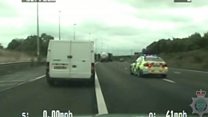 Video
Police cameras capture pursuit along M6
A gang of violent armed robbers have been jailed for a total of 30 years, for a jewellery raid which ended in a police pursuit.
After using a variety of weapons, including a samurai sword during the robbery in Nantwich, Cheshire, the men rammed a patrol car, an elderly woman driver and even kept going when one of their own team was flung from the get-away van.
The four men, from the Manchester area, pleaded guilty to robbery after a police helicopter search lead to their arrests near the M6 in Staffordshire.
Lewis Chalmers, 27, and 26-year-old Patrick Massey were both sentenced to nine years. Darren McAndrew, 32, was given eight and 20-year-old Joseph Schofield two-and-a-half.