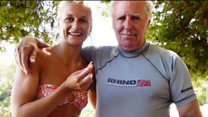 Video
Diver finds Keele medical student's £10k heirloom ring
A woman has been reunited with her £10,000 diamond ring after flying a specialist diver to Majorca to find it.
The family heirloom - passed down through three generations of Katie Patterson's family - slipped off her finger while paddling in the sea at La Playa Des Illetes.
When attempts to find it failed, the 23-year-old Keele University medical student returned home and called on the services of retired diver George Edmunds, from Dorset.
Miss Patterson paid for the 75-year-old to fly to Spain and she returned to show him where she had lost the ring six days earlier. Using a waterproof metal detector and snorkel, Mr Edmunds found it buried three inches under the seabed - 30ft from the beach.
Still photographs appear courtesy of Bournemouth News Picture Service.