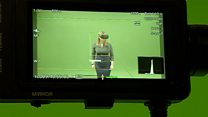 Video
Gaming technology may help juries enter virtual crime scenes
Virtual reality technology created for the gaming industry could transform the way evidence is presented to juries sitting in court.
A project based at Staffordshire University is believed to be the first of its kind in Europe, according to associate professor of forensics, Dr Caroline Sturdy Colls, who was awarded 182,000 euros in a European research grant.
Eventually, using green screen technology and a virtual reality headset, juries could be able to explore the crime scene for themselves.
BBC reporter Sian Grzeszczyk put on the headset to see if she could be transported.
Go to next video: Exploring Chernobyl in virtual reality