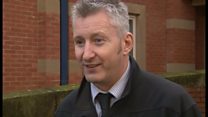 Video
Staffordshire ex-policeman Jon King talks about being blinded in a shooting
A former police sergeant has talked about struggling to adapt after being shot and blinded in one eye while on duty.
On Wednesday, a jury concluded Matthew Tearle, 35, fired a rubber ball from a paintball gun through the front door of his flat in Wat Tyler Close, Rugeley, in October 2014, hitting Jon King's eye.
Tearle, who has schizophrenia and Asperger's syndrome, was given a hospital order following the conclusion of a special finding of fact hearing at Stafford Crown Court.
In court, Judge Mark Eades commended Mr King, his colleagues and Tearle's mother and brother for their actions and awarded each of them a £250 High Sheriff of Staffordshire Award for their bravery.