Media player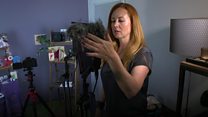 Media playback is unsupported on your device
Video
ASMR YouTube star Emma Whispers Red talks 'tingle videos'
Millions of people log onto YouTube to watch ASMR (Autonomous Sensory Meridian Response) videos featuring repetitive every day actions like hair brushing and towel folding.
A new study has found the videos - which can provoke a warm tingling sensation in some users - may have health benefits.
ASMR star Emma Whispers Red told the BBC how she got into making her own.