Media player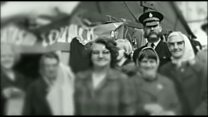 Media playback is unsupported on your device
Video
Bill Harber, famous locally for his distinctive moustache, has died at the age of 86.
A traffic policeman, who became famous in Barnsley after decades of directing traffic through the town, has died aged 86.
Bill Harber was known for his distinctive handle-bar moustache and even featured in Dave Cherry's song about the "useless" Stairfoot roundabout.
Mr Harber's friends and family described him as an "absolute gentleman" and "a legend".