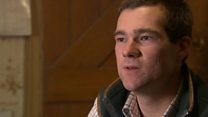 Video
Bath tipper truck crash: Driver says he 'just wanted to warn people'
The driver of the tipper truck which hit and killed four people in Bath, including a four-year-old child, has spoken about how he desperately tried to avoid injuring people.
Phillip Potter, 20, was behind the wheel when his 32-tonne truck's brakes failed and it struck Mitzi Steady, four, Robert Parker, 59, Philip Allen, 52, and Stephen Vaughan, 34.
Mr Potter was cleared of dangerous and careless driving following a trial at Bristol Crown Court.
His boss and the company mechanic have been convicted of manslaughter.
Mr Potter had only been in the job a matter of days and told the court he would never had driven the lorry had he known the brakes were faulty.
Go to next video: Tipper truck widow: 'Salt in wounds'