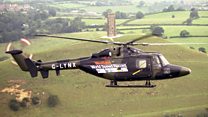 Video
Event held to mark helicopter speed record being set
An event will take place later to mark the 30th anniversary of the setting of the helicopter world speed record.
In 1986, a Westland Lynx flew at an average speed of 249.1mph (400.87kmph) over the Somerset Levels in a record that still stands for a conventional helicopter with a single rotor blade and single tail rotor.
A plaque commemorating the occasion will be unveiled near Glastonbury, at a point half-way along the 15km (9.3 mile) course the helicopter took.
The co-pilot, Derek Clews, and the family of pilot Trevor Egginton will unveil it.
The video clip from the BBC archives is from 1986 when the record was set.
Go to next video: Air day's farewell to the Lynx helicopter