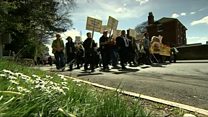 Video
General election: Telford residents against A&E move
The fate of Telford's Princess Royal Hospital is top of the agenda in the forthcoming general election, many of the local residents have told the BBC.
Those standing in Telford have been quick to show their support for protecting local hospital services.
Plans unveiled by the hospital trust have previously revealed the A&E unit at Telford's Princess Royal might be downgraded in favour of a single enhanced department in Shrewsbury.
The main women's and children's services could also move to Shrewsbury, with other services moving in the opposite direction to Telford.
For a full list of candidates standing visit the Telford constituency page.