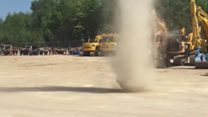 Video
Whirlwind form known as a dust devil appears in Oswestry
A so-called dust devil has been caught on camera by the boss of a firm where the blustery spiral appeared.
Stuart Jones from Ridgway Rentals in Oswestry, Shropshire, shot the footage on Wednesday.
Stav Danaos from the BBC Weather Centre said it was a "fantastic video of a dust devil".
He said: "It's not a true tornado as it hasn't formed from a thunderstorm, but these occur when thermals rise on sunny days, producing mini whirlwinds."