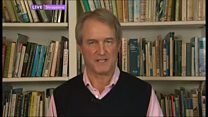 Video
Second Brexit referendum 'would be disastrous'
Leading EU Leave campaigner Owen Paterson has dismissed calls for a second referendum.
He said it was important the government triggered Article 50 and began formal negotiations to leave the EU as soon as possible, to avoid lingering "uncertainty".
The North Shropshire MP told BBC One's Sunday Politics programme the UK had clearly voted in favour of Brexit and failing to deliver that would do "shattering damage to the whole political process".
It follows calls from Liberal Democrat leader Tim Farron and former party leader Paddy Ashdown, among others, that people had voted to leave the EU, but not on a "destination".
Mr Farron said it was important for the electorate to have a say on the terms of the deal negotiated with the EU.
Earlier this month, Liberal Democrat, some Labour and SDLP MPs told the BBC they were prepared to vote against triggering Article 50.