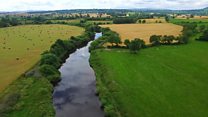 Video
Drone captures aerial view of River Severn
Britain's longest river has been filmed from the air showing its sheer scale and impact on the landscape.
Starting in Wales and crossing Shropshire, Worcestershire, and Gloucestershire the 220-mile-long River Severn supplies water to six million people.
Those living along its banks have learnt to live with flooding, among them farmer Barry Jones whose crops were covered in water in January.
He said: "It has its difficulties, it has its advantages but I don't think I'd want to farm anywhere else."
Shropshire Wildlife Trust is now working with farmers to try and reduce that damage from flooding using maize trials and by planting extra trees.
Go to next video: Bird's eye view of 'spaghetti' canals