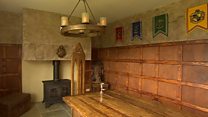 Video
Harry Potter super fans turn dining room into Hogwarts
A Harry Potter obsessed family has recreated a bit of Hogwarts in the dining room of their family home in Shropshire.
Charlotte Kyriakou and husband Andrew of Bayston Hill, Shrewsbury, spent 18 months and £13,000 transforming the space into the Great Hall.
They bought artefacts from all over the world including a suit of armour, wands and even an owl.
They were inspired by a trip to the Warner Brothers Harry Potter Studio Tour in London.
Mrs Kyriakou, 31, said: "We love the magical side of it, the thought of leaving the real world for a fantasy world."
Go to next video: JK Rowling on new Harry Potter play