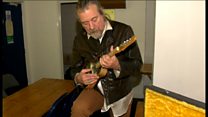 Video
Stained glass mandolin signed by Robert Plant to be auctioned
A stained glass electric mandolin signed by Led Zeppelin's Robert Plant is to be auctioned for charity.
Shropshire filmmaker Andrew Bullas put together a documentary about the creation of the unusual instrument.
Mr Bullas, from Alveley, travelled to Orkney to watch local craftsman Dick Levens making it.
The mandolin took two years to finish and the film attracted the attention of rock legend Plant.
Mr Levens said: "He's such an iconic figure and to think he's had his hands on something I made in my shed, that is really an unbelievable set of circumstances."
The instrument will be auctioned to raise money for the Teenage Cancer Trust.