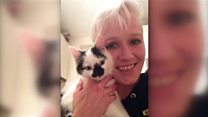 Video
Safety calls after cat killed by pollen from lilies
A petition's been set up urging retailers to put warning labels on lilies after a kitten died from ingesting the pollen.
Mr Mistoffelees was found by his owner Elizabeth Mackie covered in orange pollen at her home in Whitchurch in Shropshire.
Ms Mackie said she was "devastated" when her pet died.
"Had there been a warning I would have never allowed them in the house," she said.
Vet Andy Nelson from Leonard Brothers Vets said it was the second cat he had seen which had died from lilies in the last year.
"I hope our petition at least raises some awareness, but I'm really hoping we can get shops to put a sticker on lilies to ensure it doesn't happen any more."