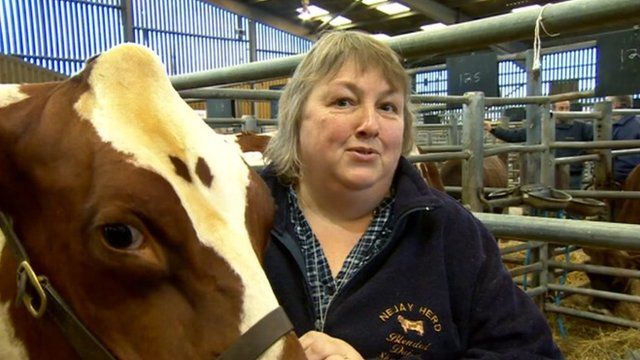 Video
Bridgnorth diary farmers sell herd over milk prices
A dairy farming family from Shropshire is selling its herd after more than 30 years in the industry.
Neil and Jayne Madeley said they had been forced to sell up after seeing milk prices plummet in recent months.
The couple, fourth generation farmers, rent 150 acres near Bridgnorth.
They said leaving the industry was a difficult decision, but there was "no other option".
From 1 November, Mr and Mrs Madeley would have received just 21 pence per litre (ppl), with production costs standing at about 30ppl.
Their 90-strong herd includes award-winning Dairy Shorthorns and Holsteins.
Forty of them raised about £50,000 at auction in Cheshire on Friday, with the remaining cows due to be sold next week.
Auctioneer Stuart Hassall said the reason some dairy farmers were able to survive was down to a number of factors, including the size of their herd and the exact detail of their milk contracts.
Jayne and Neil Madeley said they expected to stay in farming and were planning to buy 70 sheep.
Go to next video: NFU urges support for dairy farmers