Media player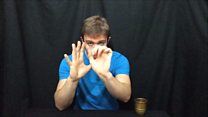 Media playback is unsupported on your device
Video
Oxford magic trick study proof that believing is seeing
Psychologists at Oxford University have used a series of magic tricks to prove people can remember seeing objects that never existed.
In a series of five videos, 420 volunteers watched four simple magic tricks, in which a magician made objects such as a silver coin disappear.
In the fifth film, the magician merely pretended to make an object disappear.
About a third of volunteers who took part in a study claim to have seen an object disappear when it had never appeared in the first place.