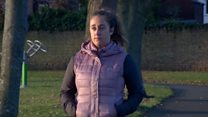 Video
'I'll only get help if I try to kill myself'
A teenager has said the only way she could get help from her school for her mental health was if she tried to kill herself.
Elodie, 17, from Nottinghamshire, said she struggled with anxiety and said she didn't get the help that she needed.
It comes as a NHS report has revealed nearly one in four young women have a mental illness.
Her mother contacted the school after Elodie told her mother she would only get help if she attempted suicide, which led to Elodie seeing a counsellor.
She is now working as a teaching assistant and is campaigning for more support for children struggling with mental health.
If you are affected by the issues in this article, help and support is available at the BBC Action Line
Go to next video: 'Porridge saved my life'