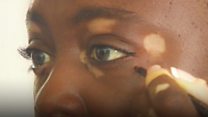 Video
Mother 'comes out' as having vitiligo
A woman with a condition that causes patches of her skin to lose pigment and turn white has explained how she "came out" after keeping it secret for years.
The condition, called vitiligo, caused patches to spread across Anika Vassell's skin after she gave birth to her first daughter.
She felt she could not leave the house or even answer the door without hiding them with makeup.
However, when she finally went out in public showing her "vitiligo face" she was surprised by the lack of reaction.
'Doing a Michael Jackson'
She also posted a video on Facebook and received a multitude of compliments.
In the video she explained that her skin would continue to change over time.
"I don't know how it's going to stop, nobody really knows if it's going to or whether it's going to be a full case of me doing a Michael Jackson," she said.
Winnie Harlow, one of the world's most recognisable models, has also embraced the condition rather than trying to hide her patches.
Vitiligo can affect men and women of all races but tends to be more noticeable among people with darker skin.
You can see Anika's story in full on BBC Inside Out East Midlands at 19:30 GMT on BBC One on Monday 6 February or via iPlayer afterwards.
Go to next video: Winnie Harlow: 'My skin doesn't define me'