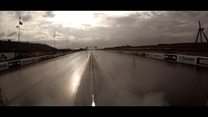 Video
Pupils' rocket-powered bid to break sound barrier
A team of schoolchildren wants to break the sound barrier with a rocket-powered model car.
Pupils at The Joseph Whitaker School in Nottinghamshire already have the world record for fastest rocket-powered model car, after setting an average speed of 533.1mph (857.9km/h) in 2014.
Recent tests at the Santa Pod Raceway showed how close the group were to hitting the sound barrier before their model was "smashed to smithereens".
However, the project's teacher Phil Worsley believed the car could go even faster and get close to 1,000mph (1609.3km/h).
They've got a £3,000 grant from the Royal Society of Engineering to help make it happen in June 2017.