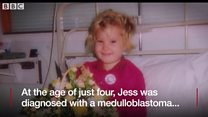 Video
Jess Simpkin: A life lived with brain tumours
When Jessica Simpkin was four years old, she was diagnosed with her first brain tumour.
She was given a 30% chance of survival and went on to defy doctors. But on her 19th birthday, another tumour in her brain was discovered.
Now, ten years on, five more are growing in the lining of Jess's brain and her future is very uncertain.
But as she gears up for her latest fight, Jess is carrying on with a promise she made to herself to raise money for the Children's Brain Tumour Research Centre at Nottingham's Queen's Medical Centre.
So far, she has raised £20,000 and said she will "fight all the way".
Watch the full report on Inside Out on Friday at 19:30 BST on BBC One in the East Midlands or on iPlayer.