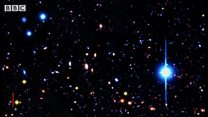 Video
Astronomers' 10-year project shows 250,000 galaxies
Astronomers have revealed infrared pictures of more than 250,000 galaxies.
Professor Omar Almaini, from the University of Nottingham, used a telescope in Hawaii for more than 1,000 hours to capture infrared images of deepest space.
It's thought they are the world's deepest images of the distant universe over a large area of sky.
Prof Almaini said: "We're trying to understand how galaxies - the fundamental building blocks of the universe - form and evolve through time.
"We do that by basically looking back in time. When we see the most distant galaxies, the really faintest things we can detect, we're looking back at galaxies at 10, 11, 12 even 13 billion years back in time."