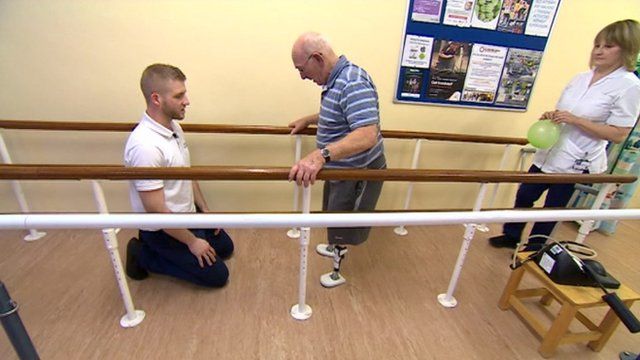 Video
Trailer crush farmer from Calverton learns to walk again
An 81-year-old farmer who almost died when he was crushed by a trailer is learning to walk again.
Ken Poole from Nottinghamshire, who now has two prosthetic legs, said he feels "very lucky" to be alive.
He remembers waking up after being in a coma for four days and promising the first nurse he saw that he would learn to walk again.
"The first words I said to her, I says 'I'll walk to you within a year'," Mr Poole, from Calverton, explained.
"That to a large extent was true and I did, but unfortunately she had gone back to Ireland, so we couldn't find her."
The accident happened at a farm in Epperstone in August 2014.
Both of his legs had to be amputated to save his life, and he is now reliant on his wife Wendy, who has been an "absolute brick".
Both of them are backing an appeal to raise £3 million to build a helipad at Nottingham's Queen's Medical Centre.
Go to next video: Trauma centre 'saved more lives'