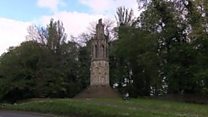 Video
Northampton's Eleanor Cross memorial in urgent need of repair
The Eleanor Cross has been a feature of Northampton's skyline since the 13th Century.
These days there are concerns about its future, with the monument in urgent need of repair.
One of only three remaining crosses built by King Edward I, ownership of the sculpture is shrouded in mystery.
Northampton Borough Council claims it does not own the cross. The county council says the same. With the cross deteriorating, the borough has taken responsibility for its maintenance.
Eleanor died near Lincoln in 1290, and Edward constructed 12 crosses to mark each of the places he stopped at on his way back to London.