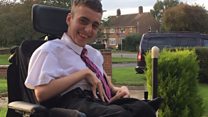 Video
Boy's cerebral palsy poem hailed 'inspirational'
A 16-year-old boy with cerebral palsy says he's been "blown away" by the reaction to a poem about the condition.
Kingsthorpe College student Callum Burnham, from Brixworth, near Northampton, said he was at the lowest point of his life after turning 16, but was inspired by a media project to recite a poem about his experience of living with cerebral palsy.
The video, produced by Beyond the Mask, which aims to inspire people of all ages to accept who they are, has been viewed more than 17,000 times since being uploaded to Facebook on Friday, with many people saying it was "inspirational".
Callum told the BBC: "I am buzzing. I am so excited. I am blown away by the number of people. It has given me much more confidence to go out and spread my message.
"People should not be afraid to be who they are."
Nigel Booth, founder of Beyond the Mask, said: "I think it is fair to say that for Callum this is just the beginning and he is literally wanting to take this to the world and inspire as many people as he can.
"It's always a shock for people what happens when they stop thinking what to say and start to say what they are thinking and this is just what Callum has done."
Callum's mother, Kelly Burnham, said: "It has been fantastic. It is unbelievable."