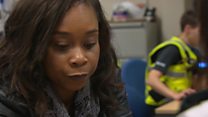 Video
Women at risk of Northamptonshire gang culture grooming
Reformed gang members are working with police in Northamptonshire to help young women at risk of becoming involved with gang culture.
The force has identified five gangs operating in the county and is working with 100 women they believe to be at risk.
Up to 20 teenage girls a month face being groomed into a gang within the area, police say.
Cherie Johnson is now running a charity helping girls out of gangs and is advising the police on gang subculture and the various roles young women can play in organised crime.
There will be more on this story on Inside Out, Monday 31 October at 19:30 GMT on BBC One (East).