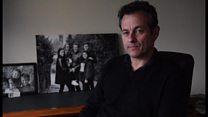 Video
India Chipchase father: 'I'll never walk India down the aisle'
Jeremy Chipchase, father of murdered student India Chipchase, has released an emotional statement about how he will never get to walk his daughter down the aisle.
Edward Tenniswood, 52, of Stanley Road, Northampton, was found guilty of raping and murdering 20-year-old Miss Chipchase in the town earlier this year after she went missing on a night out.
Mr Chipchase, who lives in Australia, released a victim impact statement, shown at Birmingham Crown Court, in which he talks about the impact of her death on her parents and siblings.
"Even though we will never experience her smile, her laughter, her caring again, her photographs will adorn our walls," he said.
"The memories of her 20 years will live on and her spirit will always be in our hearts."
Tenniswood was jailed for a minimum of 30 years for Miss Chipchase's murder, and was sentenced to 12 years for the rape, to run concurrently.