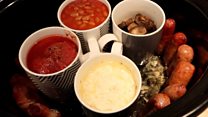 Video
Slow-cooker breakfast creator shocked by recipe's popularity
A slow-cooker enthusiast who shared a recipe for cooking a full English breakfast overnight says she is shocked by the response it has received online.
Sonia Cheetham, 36, came up with the idea to save time when cooking for her two daughters at the weekends.
The recipe appeared on a Facebook page dedicated to slow-cooker tips and has since been shared tens of thousands of times.
Ms Cheetham, from Little Fransham, Norfolk, is "overwhelmed" by the recipe's success - and staff at a local garage were impressed, too.
The recipe sees the ingredients put in separate mugs, which are then placed into the centre of the cooker. The sausages are stood up, alongside the bacon.
A knob of butter is added to the mushrooms and the eggs, before the slow cooker is turned on to a low heat and left overnight for about nine hours.
Go to next video: Meghan dishes up and Harry nabs leftovers