Media player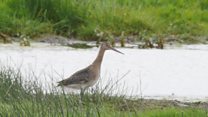 Media playback is unsupported on your device
Video
Rare black-tailed godwits released into wild at Welney
Twenty-five endangered birds have been released into the wild after being hand-reared to ensure their survival.
The rare black-tailed godwits were kept in their own shelter at the Wildfowl and Wetlands Trust site in Welney, on the Norfolk-Cambridgeshire border, before being released on Monday.
In what is believed to be a UK first, conservationists used a technique called "headstarting" to raise them from birth, and 25 of 26 chicks survived.
It involves animals and birds being reared in captivity until they become large enough to be let into the wild, and has proved successful in many species abroad.