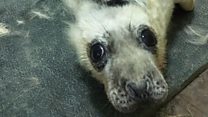 Video
Rescued seals released back into wild after treatment
Nine grey seals rescued on the east coast in early 2017 have been released back into the wild.
The sick or orphaned pups were treated in intensive care at the RSPCA's East Winch wildlife centre in Norfolk, where they were given beer-inspired names.
Skull Splitter, Jimmy Riddle, Hofmeister, Mad Goose, Pickled Santa, Corona, Waggle Dance, Norfolk Nog and Skol have made a full recovery and were released into the River Nene in Lincolnshire, where the tide will take them out to sandbanks in the Wash.