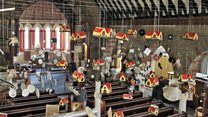 Video
Great Yarmouth church saved by 'exploded' bric-a-brac
An eclectic collection of "exploded" bric-a-brac suspended from the ceiling of a former church in Norfolk aims to keep the building "alive" as part of a conservation project.
St John's Church, in Great Yarmouth, has not been used for worship in about a decade. Great Yarmouth Preservation Trust now plans to repair and conserve the Grade II-listed landmark as a cultural heritage hub.
Its first exhibition - Suspended between Art, Architecture and Preservation - features a collection of everyday objects suspended on fishing lines to give the impression the entire nave is filled with floating items.
Bernard Williamson, chairman of the trust, said: "The trust is blessed to be the custodian of this charismatic community building.
"We have already undertaken urgent roof repairs... and are now seeking external funding for its light-touch repair and conservation.
"In the meantime, through using it for events, exhibitions and installations, we hope to keep it 'alive', allowing people to access it again and engage with it, the artwork and each other."
The eclectic objects were put in place over the course of a week by architecture students from the University of Sofia, in Bulgaria, who were in East Anglia as part of the trust's partnership work to share knowledge about traditional buildings skills and conservation.