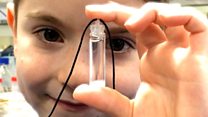 Video
Alfie Oswick, 8, in YouTube cancer fundraising mission
An eight-year-old boy has set upon a mission to raise money for cancer research by reviewing toys and games on his YouTube channel.
Alfie Oswick, from Cawston in Norfolk, has raised more than £1,000 since the start of January through donations.
He started "Alfie's Awesome Appeal" following the death of two great-grandparents from cancer and wants to raise £1bn.
"We may not get the billion pounds he wants but any donation would be greatly received by him," his mum said.
Jennifer Oswick said Alfie's family were "shocked and proud at the same time" to hear of his ambitious goal.
The schoolboy, who reviews games online on his YouTube page "Awesome Kids Playz", visited the School of Biological Sciences at the University of East Anglia to gain an insight into cancer research.
"I looked under a microscope at some melanoma cells and got a DNA necklace which had a bit of my DNA in," he said.
His mum, who had skin cancer four years ago and is now in remission, said she was "extremely proud" of her son's efforts.