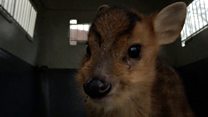 Video
Fawn 'rescued' by Norfolk Labrador 'very lucky'
A "lucky" fawn found in woodland without its mother by a Labrador is recovering well and expected to live "happily ever after".
The Muntjac deer was found near Wymondham, Norfolk, by the dog, called Jess, who carried it to her owners. After the animal was checked over by a vet she was taken to the Hillside Animal Sanctuary for ongoing care.
The charity's vet, Chris Lehrbach, said: "I think it's a very lucky deer as it certainly wouldn't have survived the night on its own."
Named Tinsel by the charity, she will remain in their care as a rescued Muntjac, a non-native species to the UK, cannot be reintroduced to the wild.