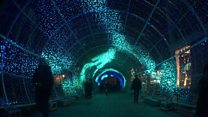 Video
Northern Lights Christmas attraction: Norwich tunnel of light
A pulsating video tunnel of LED lights emulating the Aurora Borealis is believed to be the largest of its type in Europe, organisers say.
The 45m (148ft) Christmas display in Norwich features more than 8km (5 miles) of cabled LED lighting with 57,400 bulbs.
Project manager Jonathan Bradford said the tunnel was the first of its size in Europe and was "unique" as it contained RGB LEDs "somewhat like a TV screen on a sheer scale".
"It's so bright we can only actually have it running at a maximum of 70% of its potential output."
Costing about £60,000, the attraction was funded by city businesses to attract visitors from across the UK over Christmas, in the hope they will later return for "staycation" breaks.
The tunnel was temporarily plunged into darkness on Wednesday when it was vandalised, but engineers repaired it within 36 hours.
Visitors have described it as "magical" with hundreds posting #tunneloflight selfies on social media.
Stories and video of Christmas decorations and festive creations from BBC England on Pinterest
Go to next video: Strictly's Ed Balls' Christmas switch on