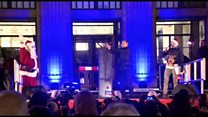 Video
Strictly Come Dancing: Ed Balls Norwich Christmas lights switch on
Thousands of people watched Strictly star Ed Balls dance his way into the festive spirit by turning on Norwich's Christmas lights.
The Norwich City chairman was invited to return to his home city to perform the honour on the steps of City Hall. He treated the crowd to a fleeting section from his now infamous Gangnam Style routine.
"Who'd have thought they'd ask me to turn on the lights of my home town... I'd never have thought it in my life... it's fabulous," he said.
The city's festive attractions include what is believed to be Europe's longest LED light tunnel, inspired by the Northern Lights.
Go to next video: Oh my! It's Carol Kirkwood and Ed Balls