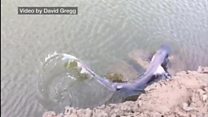 Video
Shark trapped by outgoing tide off north Norfolk coast
Visitors to the north Norfolk coast were taken by surprise when they spotted a shark in the water.
Witnesses said the fish was about 5-6ft (1.5-1.8m) long and had become trapped in a tidal pool at Brancaster on Sunday.
British Sea Fishing said it looked like a tope.
It said tope were not uncommon to the UK, but were usually found around the south east, southern and western coasts.
David Gregg, who spotted the shark, said: "It was in a small pool near the West Norfolk golf course off the Norfolk coastal path.
"There were three people standing on a bank looking and thought they'd seen a shark. I decided to go down the bank and take a closer look.
"My wife had been letting our cocker spaniel go in and out of the water - but he was soon put on the lead."