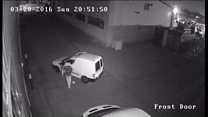 Video
Easter eggs for children with cancer stolen in Norwich
Thieves stole about 170 Easter eggs that were being collected for children with cancer when they broke into a courier depot.
The raid, at CitySprint in Norwich, was captured on CCTV footage, which showed the eggs being bundled into a van, with some left strewn across the ground.
The eggs were due to be delivered to the Romford-based Lennox Children's Cancer Fund.
A laptop was also taken in Sunday evening's raid, as first reported in the Eastern Daily Press. A woman in her 30s has been arrested.
Businesses and individuals have rallied round to donate replacement treats and the company now has more eggs than before - about 600.
Natalie Thurlow, fundraising officer for the charity, said: "These eggs mean so much to the children we support.
"People who carry out these sorts of thefts are just ignorant of the effect it has in depriving these children of a bit of joy.
"But on the plus side, it looks like we'll now get three times the number of eggs, so a big thank you to those who have donated replacements."