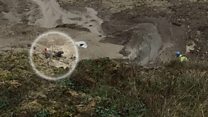 Video
Cambridge woman in Trimingham beach mud rescue
A woman, believed to be in her 40s and from Cambridge, was winched to safety by helicopter after getting into difficulties at Trimingham beach on the Norfolk coast.
The coastguard service said the woman became trapped after going after her dog which ran into the mud.
A helicopter had to be sent from Humberside to assist with the New Year's Day rescue because local teams could not reach her on the ground in the soft mud.
Keith Griffin, of the Happisburgh and Mundesley Coastguard rescue team, said: "The rope rescue technicians were able to recover the dog just as the helicopter arrived on scene.
"The casualty was winched and taken to a place of safety on the cliff top and handed over to waiting ambulance crews."