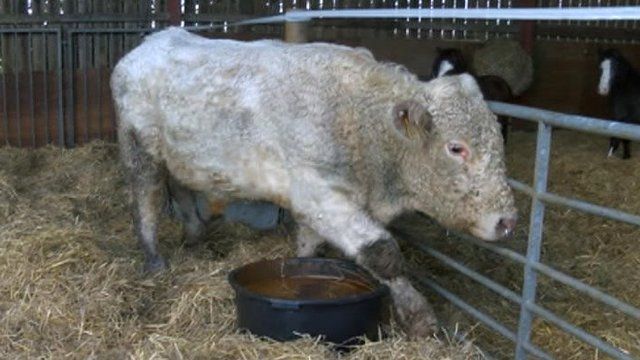 Video
'Gay' bull Benjy at Norfolk Hillside Animal Sanctuary
Benjy, a gay bull facing slaughter as he was no good as breeding stock, has arrived at a new home in Norfolk after he was saved by an online campaign supported by Sam Simon, the co-creator of The Simpsons.
The campaign raised £10,000 to cover the cost of his purchase, transport and ongoing welfare at the Hillside Animal Sanctuary near Norwich.
The Simpsons producer, who was diagnosed with terminal cancer in 2012, said it "thrills" him to have been able to help.
The sanctuary cares for more than 2,000 animals, including 300 cattle, the majority of which have been saved from the farming industry.
Go to next video: Same-sex penguin pair raise chick