Media player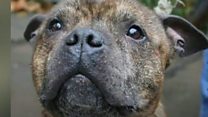 Media playback is unsupported on your device
Video
Corpse-eating Staffordshire bull terrier gets execution reprieve
A dog sentenced to death after eating his owner's body has been given a stay of execution after a judge granted a judicial review.
Staffordshire bull terrier Butch was labelled "dangerous" by Merseyside Police after it was found eating the corpse in 2015.
Officers said the 10-year-old dog, who had been trapped in the Liverpool flat for several days, presented a danger.
But a dog charity said Butch "did what was natural" and should be rehomed.
Judge Nigel Bird has now ordered a review of the seizure order and fairness of the court hearing.