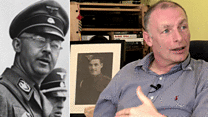 Video
How five British soldiers apprehended Heinrich Himmler
When Chris Mannion decided to investigate his late grandfather's role in the World War Two his research led him to an astonishing discovery.
His family had always mentioned Lance Sergeant Patrick Mannion had some involvement with a leading Nazi but there was never much detail.
Mr Mannion, a volunteer at the Imperial War Museum North, then discovered his grandfather was part of the small unit which captured Heinrich Himmler, one of the most senior members of the Nazi party.
He has since tracked the relatives of the other soldiers who caught one of the world's most reviled men.
Learn more on Inside Out North West, BBC One, Monday 19:30 BST.