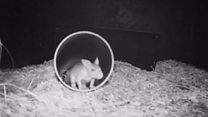 Video
Chester Zoo releases footage of rare giant jumping rat
The first footage of a rare giant jumping rat born at Chester Zoo has been released.
The nocturnal rodent, whose sex is still unknown, was born in July to mum Rokoto but has only recently started to venture from its nest.
The zoo captured the newborn on night vision cameras.
Chester Zoo said it was the first time it has bred the species, which expected to be threatened with extinction in the near future.
Native to the island of Madagascar, the rat can grow to the size of a small dog and shares traits similar to those of a kangaroo.
Chester Zoo said it only jumps on rare occasions but has the ability to leap almost 1m (3.3ft) into the air when it does.