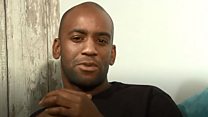 Video
'I regret grooming young drug dealers'
A former gang leader has described how he groomed children as young as 12 into dealing drugs.
Matthew Norford, who now raises awareness on the impact of gang crime, said the children were "pawns" in a lucrative business known as "county lines".
This is where gangs exploit young and vulnerable people and persuade them to transport and sell drugs outside of their area.
It is a racket that sees drugs dealers expand their empires from their big city bases into smaller towns and rural areas.
Mr Norford has now set up an organisation called 1 Message, which aims to steer young people away from crime.
You can see more on this story on Inside Out North West on Monday 15 October at 19:30 BST on BBC One in the North West. It will then be available on the BBC iPlayer for 30 days.