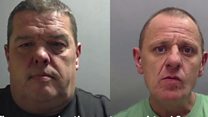 Video
CCTV reveals moment man escapes explosion in Warrington ATM raid
CCTV footage has revealed the moment a man narrowly avoided injury as he tried to blow up a cash machine.
David Culshaw, 50, and his 51-year-old brother Michael, both of Leigh, Greater Manchester, used gas canisters in an attempt to break into the machine on two separate occasions at a Spar store at Risley in Warrington, Cheshire.
The second failed attempt showed one of the brothers - although it is unclear which one - having to jump back to avoid an explosion.
Both were sentenced at Liverpool Crown Court to 10 years in prison after admitting a range of chargers, including intent to cause an explosion likely to endanger life or property.