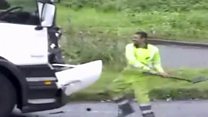 Video
M62 'road rage' driver attacks lorry with shovel
A truck driver reversed at speed into a lorry then smashed its cab with a shovel in a terrifying "road rage" attack captured on camera.
The two vehicles had collided as they went on to the M62 in Greater Manchester, before tensions spilled over when they exchanged details.
After a tussle on the hard shoulder, the truck driver reversed his vehicle into the lorry.
Two men locked themselves inside the cab. The pick-up truck driver then fetched a shovel from his vehicle and smashed the lorry's window.
It happened at about noon on 9 November in Eccles.
Logistics and distribution firm Wincanton said two of its drivers were the victims of a violent attack on the M62 and one had to be taken to hospital.
The firm said he had since "made a good recovery".
In a statement it said: "The safety and wellbeing of our employees is our top priority, and we will continue to give them both our full support and work with the police in their investigations."
'Unexpected violence'
PC John Cavanagh, of Greater Manchester's Roads Policing Unit, said: "Luckily neither of the men were seriously injured.
"However, they have been left terrified by the incident.
"Accidents happen and they were attempting to deal with the situation in an appropriate manner.
"No-one could have anticipated the level of violence they would then fall victim to."
Police are appealing for information from anyone who recognises the truck driver.