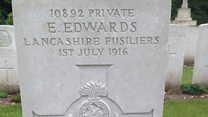 Video
Musical tribute to Salford Pals marks Remembrance Sunday
An orchestral work focusing on the story of the Salford Pals in World War One has been broadcast for the first time to mark Remembrance Sunday.
About 650 men, mostly in the Salford Pals battalion of the Lancashire Fusiliers, died on the first day of the Battle of the Somme on 1 July 1916.
The composition God's Own, Caught In No Man's Land was created by Edge Hill University's Prof Stephen Davismoon, who said it was an "aural memorial" to the fallen.
Commissioned by the BBC Philharmonic Orchestra, the work incorporates poetry from Salford's Winifred Letts, written in 1916, as well as recollections and letters from the front line.
Listen to the world premier on BBC Radio 3 on Sunday 13 November at 23:30.