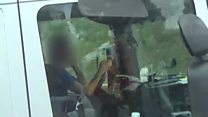 Video
Driver caught using two mobile phones on M6 in Cheshire
Footage has emerged of a motorist caught using two mobile phones while driving a lorry on a motorway.
The driver was filmed on the M6 near Knutsford in Cheshire by a specially adapted HGV cab which allows police to film unsafe driving behaviour.
He was seen speaking on one phone, while using a second phone to apparently type out a text message.
The lorry driver was given a fixed penalty charge of £100 and three points following the incident, in September 2015.
Highways England said 2,680 motorists have been stopped by the HGV spy cab over the last 16 months.
About 3,494 offences were recorded over that time, with nearly half related to the use of mobile phones.