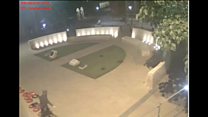 Video
Man fined £90 for kicking Manchester cenotaph wreath
A man has been fined £90 after he was caught on camera kicking a wreath at Manchester Cenotaph.
Greater Manchester Police tweeted the 31 year old appeared to walk away "celebrating" after the kick in St Peter's Square at 01:00 BST on Wednesday.
They later added: "Drunk man who kicked Cenotaph wreaths 1am mortified when show CCTV. £90 fine and linking in with Poppy Appeal for charity work.
"Know some will say not punishment enough but we have to take remorse, previous good character and no damage into account."
Councillor Pat Karney, city centre spokesman for Manchester City Council, said: "Anyone who disrespects the memory of the people who fought for Manchester will be caught and reported to the police.
"I hope the man who did this realises what an insult it was to those who fought for this country."