Media player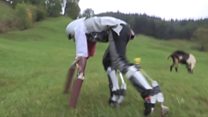 Media playback is unsupported on your device
Video
'Goat man' Thomas Thwaites pretends to be a goat in the Swiss Alps
Author Thomas Thwaites has spent several days pretending to be a goat in the Swiss Alps.
He even had a set of prosthetic limbs made for him by Salford University expert Glyn Heath, in order for him to experience what it was like to walk like a goat.
He wanted to experience the world through an animal's perspective.